The best way to distinguish an ecu's OBD type is by glancing at the onboard ecu plugs, as seen in this diagram: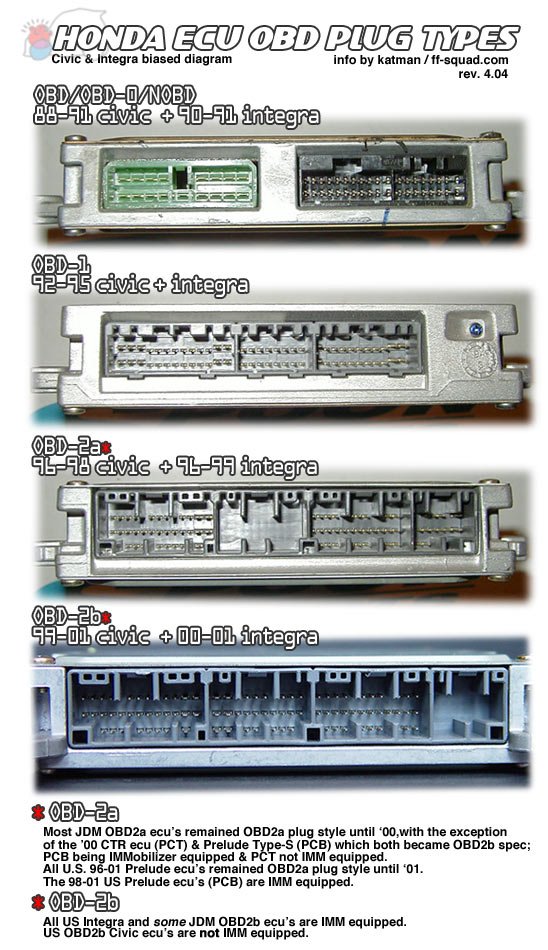 OBD*
[aka "OBD-0" or "NOBD"]

88-91 EF civic/crx (JDM & US)
88-89 Integra
90-91 DA integra (JDM & US)
OBD-1 (JDM & US)

92-95 EG civic
92-95 EG2 delsol
92-93 DA integra
94-95 DC integra
92-93  CB accord
94-95 CD accord
92-95 BB4 prelude

OBD-2a (US)*

96-98 EK civic
96-99 DC integra
96 BB4 prelude
97-01 BB6 prelude
OBD-2a (JDM)*

96-99 EK4/9 civic
96-01 DC2 integra
OBD-2b (US)

99-00 EK civic
00-01 DC integra

OBD-2b (JDM)*

00 civic
00-01 Prelude Type-S,  Accord Euro-R
* OBD
In the Honda performance community, people have dubbed the 88-91 civic/crx + 90-91 integra OBD type — "OBD-0" or "NOBD" . Technically it's called "OBD" because Honda never attached a "0" to the term (notta big deal). So, in essence to the 1986 standardization of OBD, pre '88 Honda/Acura's that are fuel injected (86-87 civic/crx Si models & 86-87 integra) are considered to be "OBD" as well. Even though these vehicles do not say-so under the hood. If there's an ecu in the vehicle it has some form of OBD.
* OBD2a (US)
Honda of America's OBD2a for Prelude's ranged from 96-01 which seems a little weird if you ask me. I ask myself the same thing – 'Why don't they just keep everything consistent?' beats the hell outta me!

* OBD2a (JDM)
Honda of Japan's OBD2a ranges from 96-01 for most of their vehicles, except the Prelude Type-S & Civic Type-R ecu's, which are OBDb.
* OBD2b (JDM)
Honda of Japan didn't make all of their vehicles OBD2b spec, only a selected few…for some oddball reason – The 00 EK civic Type-R , Prelude type-S, and Euro-R accord.